Performance management chart
The performance management chart should be a steady follower of every endurance athlete. It allows you to analyze your fitness as well as your fatigue. It will tell you when a recovery day is overdue and you can spend a day on the couch without remorse. But it is also relentless in telling you if you spent too much time without training and you are losing fitness.
You will be able to plan your training and tapering so your fitness is at its peak and you are rested for a personal best at the next competition.
The performance management chart can help you stay injury free by avoiding over training and it gives a visual feedback of your training progress.
For more detailed information aber the performance management chart check out our blog post.
With the training totals table you can compare how much time you spent training in each sport and what distances you covered. The third column gives you an overview of the training stress that was induced which causes positive adaptions in your body.
While most of the time and distance was covered on the bike, the training stress is distributed quite evenly in the example on the left.
Balance your training not just by time and distance which is not really comparable anyways but by the stress the training puts on your body.
In the calendar view you get an overview of the time, distance and intensity that you have trained in each sport. Additional icons display if you did more or less than planned, or if your training was spot on.
Together with the meso plan information (training, recovery or tapering week) you get the bigger picture of your training development. Is my volume increasing, do I follow training breaks during recovery weeks, are tapering weeks low in volume but high in intensity etc.
With the critical power chart you get a very powerful tool to analyze your performance profile. For how long can you hold a certain power output? Are your strengths short, high power sprints or long and steady time trial efforts? The critical power chart tells you in which areas you have the most potential.
Compare your power profile of the current season with your overal bests. The critical power chart also shows you your FTP value without having to do a 20 minute test.
How does your performance change over a long periode of time? Observe how your personal bests and FTP improve. How does your weight change over the course of the season and does it affect your performance?
Is there a correlation between FTP and weight – does your performance drop with lower weight and is it relavent? The W/kg curve will tell you.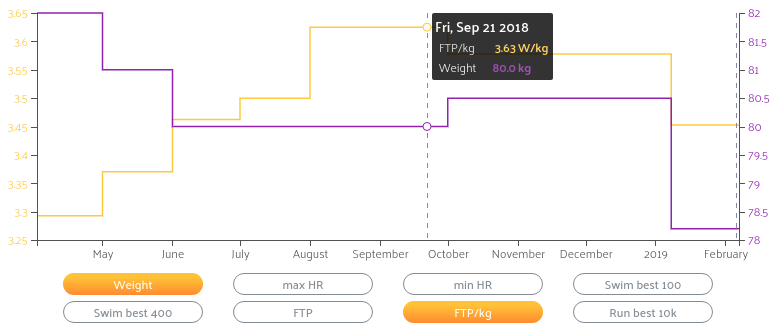 If your trainer is on PerfectPace just enter his email address and send a connection request. As soon as he approves your invitation he will be able to see your activities and statistics as well as your performed activities. Of course he will be able to create a training plan via drag and drop and profit from the additional features that we built in especially for trainers.
You want to get an overview of your long time training progression? Then the weekly training volume chart gives you exactly that. Get an overview of the maximum and total workout duration, distance and training stress for every week.
If everything worked according to plan you should see a steady progression throughout the season.
Get an overview if you trained in the training zones that are right for your training goal. The 80 / 20 rule advises to spend 80% of your training time in a low intensity zone and 20% with high intensity training. PerfectPace offers heart rate and power based charts.
We even support run power from Stryd.
If you like to plan your training ahead you might like the possibility to enter your available training times. If you are connected to a trainer this feature is essential to tell your trainer on which days you are available for the long endurance sessions.
Even our intelligent training plan algorithm will respect your time constraints and place workouts accordingly.
Get access to the PerfectPace library with predefined workouts in every supported sport and category. Plan your training comfortably via drag and drop.
If you prefer to use your own workouts you can add those to your custom workout library. Simply drag your favourite activities from the calendar to the workout library to have them available for a future use.
Available training categories are:
Endurance
Interval
Technique
Strength
The activity view contains all relevant information in a single screen. You get the workout totals, maxima and average values. Two bar charts show the time you spent in each training zone (heart rate or power based). A single graph displays the data recorded by your watch or bike computer and you can directly compare one series with another. Of course we also have a map to display your GPS data.
A meso cycle is the sequence of training weeks and recovery weeks. Most common ratios are 2 or 3 training weeks followed by a recovery week. Generate a meso plan for your season with a single click and don't forget those important recovery weeks any more.
Our meso plan generator will also consider your future competitions and add tapering weeks depending on the competition distance.
Synchronize your data with the most popular devices from Garmin and Polar and import your existing data with a single click.